licence: freeware
genre: logical
optimal OS: 32bit Windows
used technology: Flash 5, Delphi, WinAPI
year of publish: 2005
archive size: 457 kB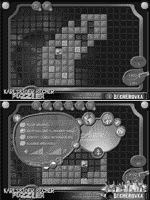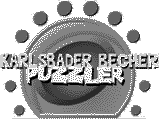 The Karlsbader Becher Puzzler is a pure logical game. Your goal is to clear up game board of any stones appearing on it. Each of the stones has a specific pictogram distinguishing it from the others. To clean the scene you need to connect at least two same pictogramed stones - the only means offered to you is moving them along platforms - either static or in motion (vertical or horizontal "lifts").
The game forks into alternatives each time certain level is accomplished. Getting more and more difficult, there awaiting you 92 levels in this game! But hold on - there is more!
Can you reveal four secret scenes? Hint to find them: Search in the help file (part of the archive) for an uncommon typography!
Tons of fun you enjoy while playing this game is guaranteed neither for a couple of days, probably nor for a couple of weeks, but be sure that you'll have to employ your brain cells for a REALLY long time! xMAKE SURE YOURSELF!!
Where to find out more
In the help file (part of the archive) you can find how to control the game, exhaustive description of settings and

solutions to very first scenes

.