licence: freeware
genre: logical
used technology.: Flash,XML
year of publication: 2006
size: 341 kB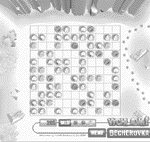 In this a purely logical game that will testify not only your shrewdness but also your strategical thinking. Attention - you are facing a hard-core tactical turn game!
The entire game is dressed into a nice winter suit to emphasize the right Christmas atmosphere. However, your goal is not unwrapping presents but instead facing falling ice balls carrying frozen fruit pieces inside. When hitting the ground, they make up an unbelievable chaos. If you suspect that dealing with this disorder is your duty then you are right! The only means to clean the board up is to make them move so they constitute a chain of at least five of same kinded fruit balls.
Only by thinking few steps ahead and moving balls sophisticately you reach the progess. And by the way, wanna make your life a bit easier? Then use an "joker ball" - it can be combined with any other ones!
Thus, bear in mind that thinking with a cold head makes the benefit! :-] MAKE SURE YOURSELF TODAY, BETTER RIGHT NOW!!
Where to find out more
In case of any questions, try a game help (a part of the archive) where you can find explanations of all bonuses appearing at or falling onto the board!